Lasers for Particle Image Velocimetry

Particle Image Velocimetry (PIV) achieved significant development compared with traditional flowing display technology by using a transient, multi-point, non-contact hydrodynamic speed method. PIV overcome the single point measurement limitations of traditional means for that PIV can record a great deal of velocity distribution of different space at the same transient state, also provide customers affluent spatial structure and flowing characteristics about the flow field. PIV can be widely used in the wind tunnel flow field measurements, turbulent flow field measurements, particle flow studies, environmental studies, biomedical research and other fields.
Changchun New Industry referred to CNI (www.cnilaser.com) is mainly engaged in the research and production of high-end lasers. CNI has obtained ISO9001, FDA, CE, RoHS and JQA certification. The industrial scale and technology of diode pump all solid state lasers have maintained a world leading level in recent years. CNI products have been exported to more than one hundred countries and regions and CNI brand also received a high market reputation in the international community. CNI can provide different structured laser/ line laser for PIV, also the accessories used for PIV are available for a total system from customers.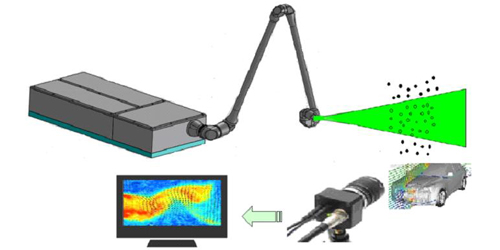 CNI self-made high performance laser source

All accessories for PIV test system

Easy to

i

nstall, uninstall and maintain

Adapt to harsh PIV environment

Provide customized solutions
Structured Laser/ Line laser
Structured laser/ Line laser 532 nm high power continue wavelength laser
LPS series Lamp-pumped Q switched structured lasers/ line lasers
DPS series Diode-pump Q switch structured lasers/ line lasers











Laser Light Sheet




Synchronizing

System




Articulated Arm




Remote Control

System




Las

er Goggles

The experiment phenomena of CNI Structured laser/ Line laser for PIV from customers







Continuous laser light sheet




Experiment on testing flume field with PIV




Experiment on testing nozzle jet w

ith PIV